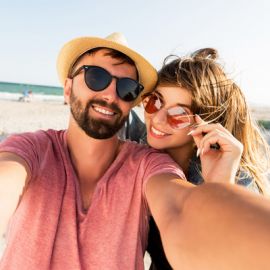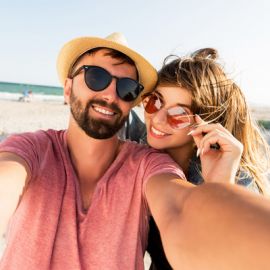 Hello!


I'm an online Travel Consultant for Evolution Travel, the No.1 Network of Travel Consultants for your holiday.
Every day I receive and manage requests from people who want to plan their own trip without having to spend lots of time carrying out endless web searches or even going to an agency, finding you the best deal for your trip, at the best price.
I am here, and can be reached anytime however you like: you can contact me via telephone, Skype, messaging, or through the CONTACT ME button above... Whatever is most convenient for you!


Why did I choose this job?

I chose to become an online Travel Consultant because I love to travel and I love planning trips for others.
I've always done it, and at some point I decided that this, my passion and talent (yes, because passion is not enough to plan a trip well), could become a job and I therefore embarked on this fascinating line of work.

Every new travel proposal I organise for my clients is, for me, how I would travel to that destination, discover new aspects and experiences, or once again reviving those I know very well thanks to my professional and personal experience.
I love this job and wouldn't change it for any other in the world! :)

What can I do for you?

I can plan your own trip however you want it, and guarantee that you will return happy and satisfied.
Here's what will happen when I receive your request for your next holiday:

1. I will give you a telephone call you straight away.
This is very important for me because it enables me to get acquainted with you, and really understand what you are looking for and what particular requirements you have.
Do you want to have a holiday full of relaxation after a year of hard work? Or are you an adventurous person looking first and foremost for unforgettable experiences?
In any case, how would I be able to know without having a nice little chat with you? ;)

2. I am dedicated to finding the best deals for you
Once I have fully understood what type of holiday you are looking for, I will then go and research the things you desire.
I guarantee I will be able to find what you are looking for, as I have the experience and tools which enable me to access all the deals in the world of tourism. And when I say all, it really means all: any flight, service, package.
And above all, I am certain that whatever I suggest to you will be safe and guaranteed by the reliability of a company operating online since 2000.

3. I will send you the offer
Once all the services have been selected, I will send you the offer and we will review all the details together, amend anything you are not satisfied with, and re-work it in until we have a definitive plan.

4. I will confirm your booking
When everything is to your liking, I will ask you to make payment (deposit or balance, depending on how much is owed on the date of departure) and will then proceed with the booking.
5. I will send you your travel documents
Once the booking has been confirmed, I will send you all the documents necessary for you trip in good time, and I will always be available to help you in any stage of your trip: before departing, during the trip, and on your return.
Why should you choose me?

Because you can take advantage of the advice of an industry expert and plan your holiday without having to go to an agency or spend time doing endless web searches, or go through the stress of call centres.

Don't miss the best deals of the week!
Sign up to receive interesting and unique offers each week!

The best prices on the market

Compare the prices of a package is difficult and takes time, but we do it for you. It's part of our job to find you the best solution at the best price We do it for free, in fact if you do not buy it, you got nothing.

Product knowledge avoids errors

For every product that we see a specialist who knows the product and recommends the best, Dodging disappointments.

Travel safely

You always have the online service of your Travel Consultant, ready to assist at any time. We also have the best insurance that protect you from any inconvenience